| Over

8900

Sold!
Regular price
$113.00
Sale price
$36.95
Unit price
per
Sale
Sold out
or 4 interest payments of $9.23 with
Arrives between Sun, Oct 01 and Mon, Oct 02.
Want it sooner? Select express shipping at checkout.
Description

Meet the mind-blowing Vicky Quicky masturbator! Modelled directly after MILF superstar Vicky Vette's mouth, this ultra-lifelike masturbator's incredible suction and soft, fleshy interior will take you from 0 to 100 - in no time at all.

This deep throat sucker is incredibly comfortable and snugly envelopes your full length, creating powerful suction that builds as you thrust. As if the realistic shape and soft, lifelike materials weren't enough, 'Vicky' has a secret weapon. An amazingly powerful 7 speed battery-operated bullet vibe slips into the slot under the mouth of the masturbator and buzzes orgasmically against your balls with every stroke, pushing you slowly over the edge until you experience a climax like never before.

Doc Johnson's signature UR3 material isn't just incredibly realistic, it is also body-safe, hypoallergenic, easy to clean and comes with care instructions so you can keep your masturbator in sensational condition for years.
Specifications

Measurements

Insertable Length:

6.1 inches

Length:

6.6 inches

Maximum diameter:

N/A

Width/Diameter:

2.9 inches

Feeling

Contains latex:

No

Contains phthalates:

No

Flexibility:

Firm but flexible

Material:

TPE

StimulationArea:

Penis

Texture:

Textured (Inner)

Waterproof:

No

Power & Speeds

Battery Info:

Battery Operated

Controller Type:

Built-in Push Button

Power Type:

3 LR44 (included)

Power Vibration speed:

7 function

Extra Info

Adventure Level:

Beginner

Includes:

1 deep throat sucker, 1 removable bullet

Who's it for:

Men
Key Benefits

Molded Directly from MILF Superstar Vicky Vette
Handcrafted from ULTRASKYN, for The Ultimate Feel
Tight, Textured Interior
Removable 7 Function Vibrating Bullet
Easy Handheld Use
Order Over The Phone

Talk to one of our customer care specialists and take your order over the phone. Just dial 1-800-918-6308 and reference the following product number: DJ542005
With our 60 day money-back return policy you can shop worry free
View full details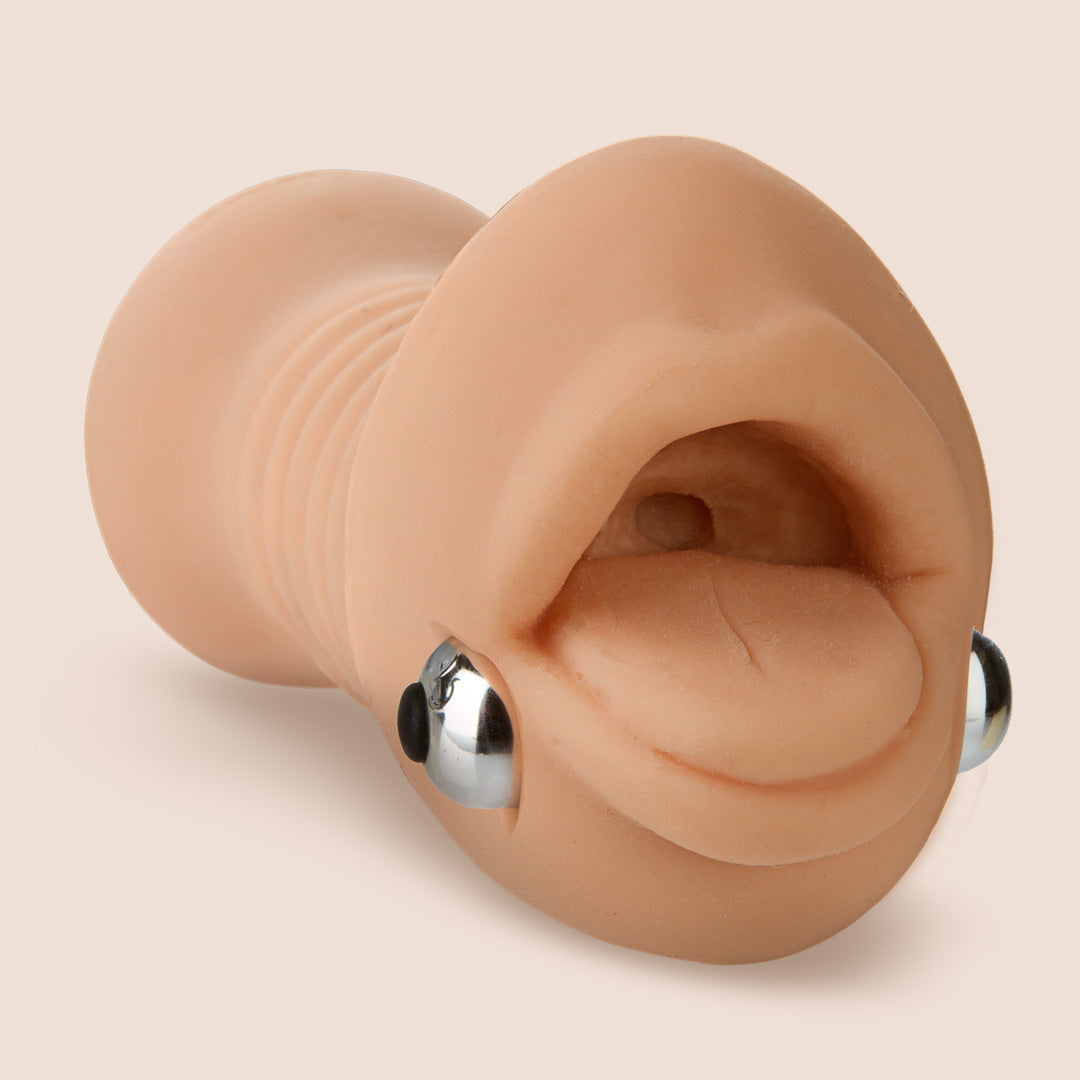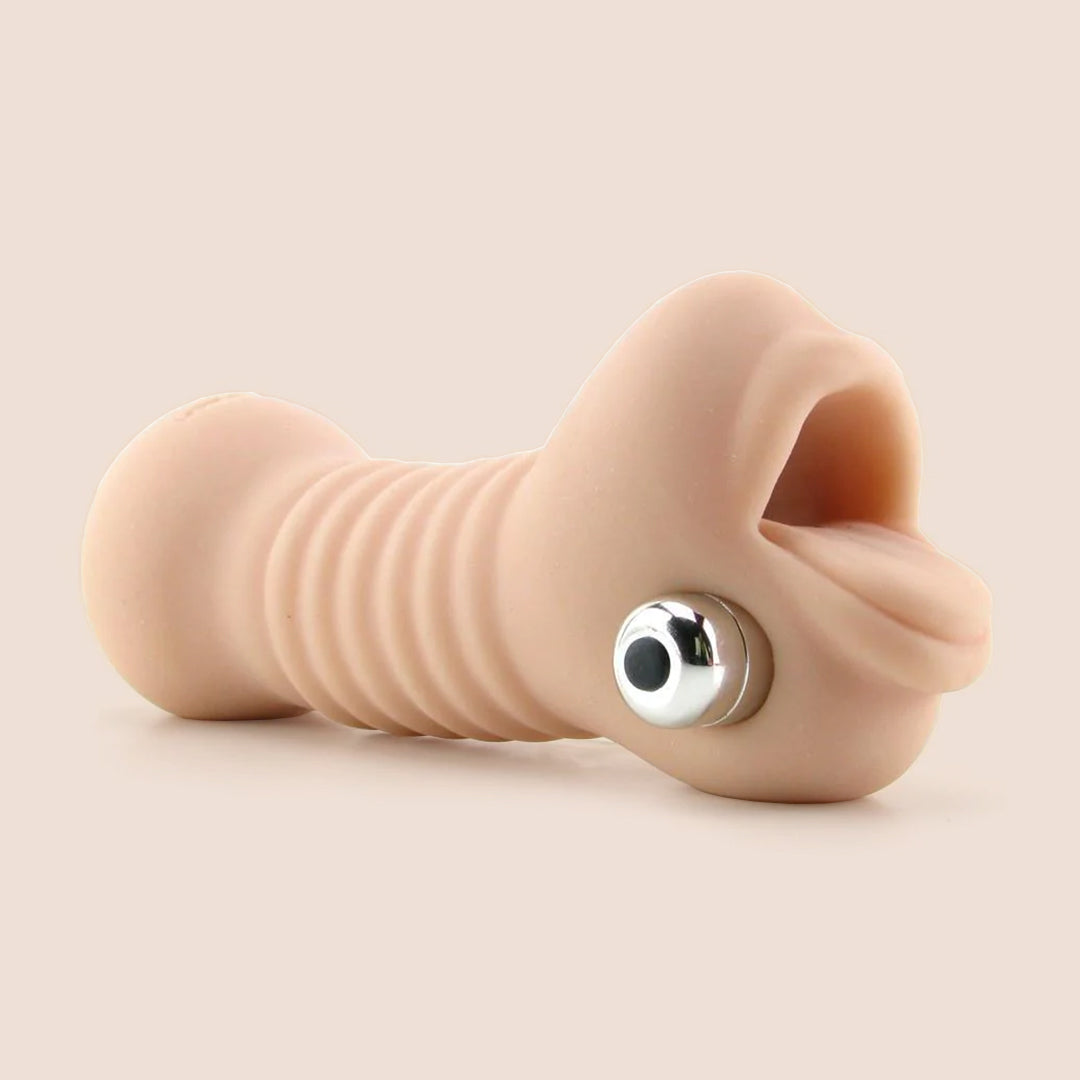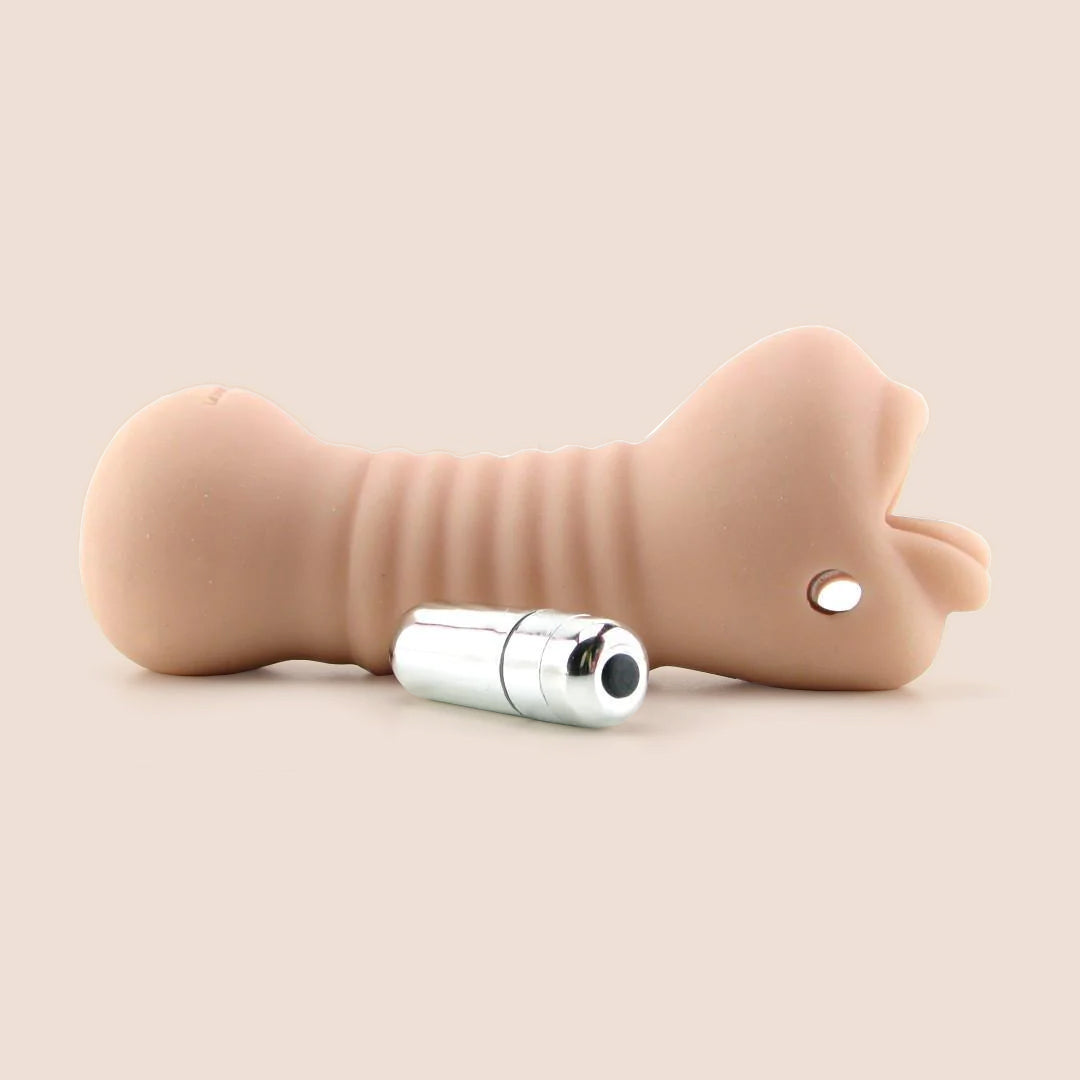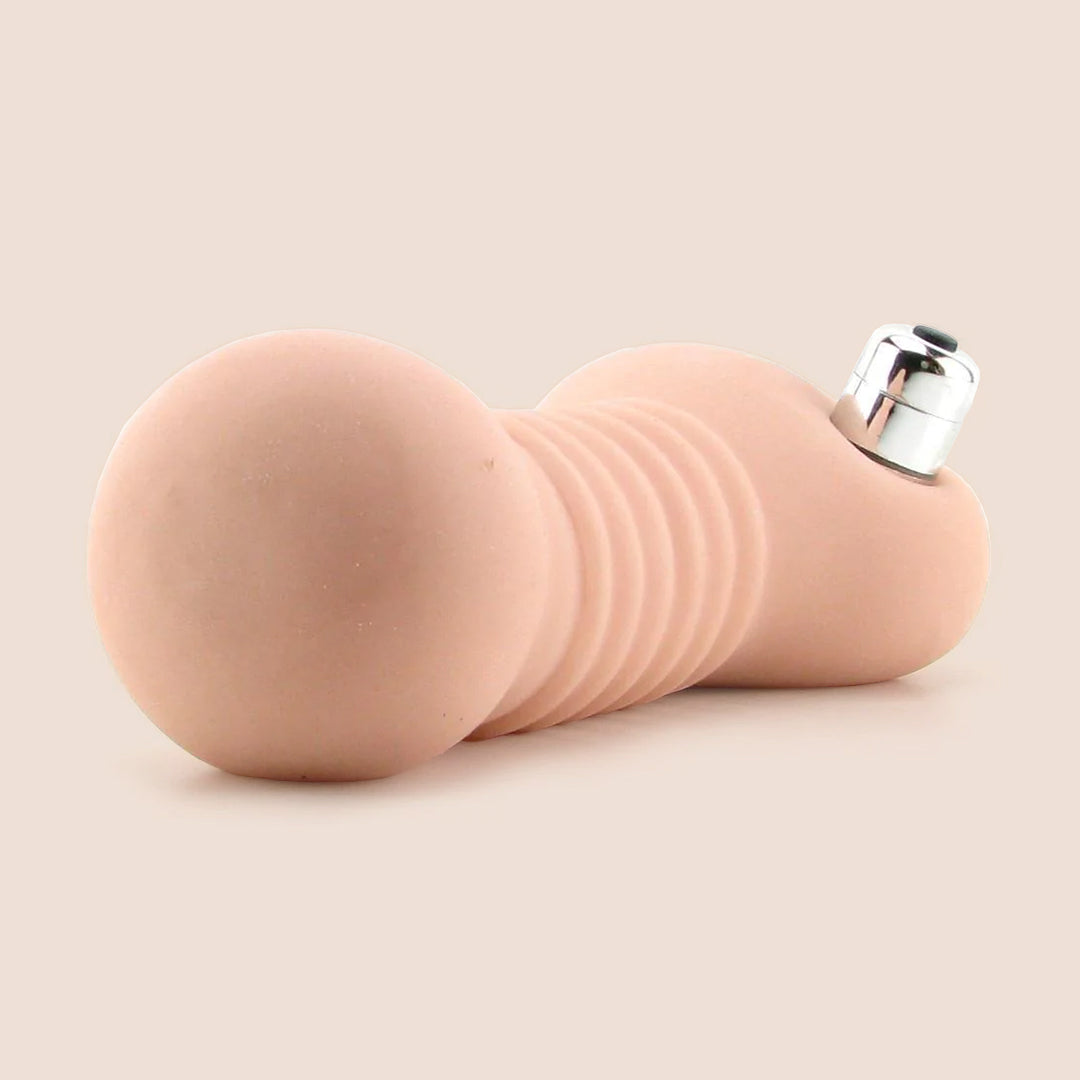 The Joke's On Us
Whenever you leave a review on a product that you love, you'll get a response from one of our hilarious Simpli comedians. Read at your own risk.
Customer Reviews
Write a Review
Ask a Question
Excellent Toy!
So i got this from another site but wanted to write a good review on here cause I like this very much. I have had a fleshlight in the past, and I also have one of the tengu flip holes and one of the robosucker/blowjob 2. I never really liked the fleshlight much but the tengu isn't bad. Anyways, I can't really say how close it is to a real blowjob, but I can say if your somoene who is always using your hand this is going to beat it hands down! It will blow you away! ok now that i got the puns out of the way... the first thing is that this thing isn't that big which is a big plus for me, alot of the good masturbators out there are big and unwieldy (like the fleshlight, and the tengu, and the robosucker) aswell as I'v found the big masterbators to be really messy, the lube always gets everywhere and because the exterior on those products is usually a plastic case your lubed fingers tend to slide all over the place and i really hate that feeling... it really makes it hard to concentrate/ruins the immersion. Whereas this device is quite small, its quite possible to just use one hand although two hands helps the end from flopping around abit. The material feels very life-like, its not 100% but its close enough that if your using your imagination its not going to break your immersion from feeling out of place, its quite soft like alot of the fanta-flesh products. The lips are quite defined and realistic, and the tongue could be abit more defined but its not bad, definitely better then no tongue at all. One of the biggest pluses with this toy, and this is something that none of my other toys have and I love it, is the suction. There is almost like a bulb at the end of the device, you can see it in the pictures, and I'm not sure if it was designed to act like a bulb but if you squeeze it you can feel whatever air thats inside sort of squeeze down the shaft... and if you keep squeezing the shaft downwards forcing the air towards the mouth opening the air will squeeze out and your left with incredible suction! Easily enough suction to feel like a person sucking with a decent amount of force! and the suction stays that way untill your done/removed from the device. Another good thing about this, because its so small, you don't need as much lube cause with other devices you put in lube and it gets distributed everywhere and alot of the lube goes where its not even needed... because its so small i found that it warmed up very quickly just from use, whereas when i use the tengu flip hole i find it takes a while just to get the lube to the point where its no longer uncomfortable cold. So I really liked that. Lastly, the vibrator...I'm a guy so I really havn't ever used a vibrator lol... I pretty much assumed it was only going to be something for a girl. So when i bought this I bought it mostly for the sleeve not the vibrator, would have bought it even if it didnt have vibrator. But i tried it because why not, I was really suprised at how strong the vibrations are first of all, like really strong... some of the reviews that I'v read of either defective vibrators or weak vibrations makes me think they either got defective units or that those were old units and they have fixed it now, cause mine worked very well and if I had a female partner I'm sure she could use it herself with no problems cause its really strong. Its almost uncomfortable strong if i were to hold it in a tight fist, but in the sleeve it gets distributed and so its perfect strength. It actually feels really good, its almost like if a girl was humming a tune or something while going down on you... some of the settings is just constant vibration but a few are pulsed at different strengths. I actually found the vibration to be to good as it makes things end to quickly, but i suspect the more you use the toy the more you get used to it, its kinda new right now. Lastly, the only downside I can think of is that clean-up isn't very easy. Its not terrible hard either, but it will take some effort. You can't just rinse it out as theres only one opening and the opening is quite small, and your going to want to be careful to not go to hard on it. That being said if you know what your doing it should only take 1-2 minutes to clean. For the price you absolutely cannot beat this toy, if I had known how good it was I would have bought it along time ago, I would much rather use this then any of the other toys I have had in the past, and some of them have cost 100$ or more.
03 Jun 2022
Simpli Pleasures
You said it. You said all the its.
Excellent texture and feel but not very durable
Normally I wouldn't review something such as this but I have to admit that it is a fantastic toy. My first one was a mangasm sexflesh Jessica Sanders that felt far too toyish with an unrealistic sensation from both openings. This unit however has a very good feel to it and with the proper lube has a wet squishy sensation complimenting the internal ribbing which fells quite nice. Reversing the ends delivers different sensations depending on your mood and I really like it and wish that I'd gotten this one the first time. My only gripe is that the pink paint on the lips fades after the first use and leaves you with a flesh coloring. If you're considering getting a little helper keep this one on your short list. Edit: I had to drop this to 3 stars after it ripped on both ends which demonstrates that it isn't very durable and I've added pictures to show what I'm talking about.
25 May 2021
Simpli Pleasures
Thanks for taking the time to leave us a review. We will send you a personal email to get this straightened out for you. Please let us know if we can be of any further assistance. Kind regards, Arianne | Customer Care 1-800-918-6308 care@simplipleasures.com
its alright had better
The vibe needs finessing it does work must of the time in all I have also purchased the Sasha grey one to and it is by far more fun than this one this ones alright but the Sasha grey one is better.
25 May 2021
Simpli Pleasures
Thanks for taking the time to leave us a review. We will send you a personal email to get this straightened out for you. Please let us know if we can be of any further assistance. Kind regards, Arianne | Customer Care 1-800-918-6308 care@simplipleasures.com
Four Stars
all good
03 Jun 2022
Simpli Pleasures
This toy is 'all good.' But mostly it's all mouth.
Feels like the first time
Great quality product, looks very real and feels almost real. At times it might even feel better than the real thing. Need to be lubed up with a good quality water based lube to enhance and get the most from the sensation and experience. Fits well in your own hand and not to big for my wife to grip too. Has two different entry points for two different feels and sentations. Great value for the price and is fairly easy to clean after every use.
03 Jun 2022
Simpli Pleasures
Woah. You're making us want to buy it, and we sell it.
Pretty good product
Pretty good product, feels good on the goods. The vibrator didnt really do it for me but the wife puts it to use so it isnt a complete waste. I bought this and the Sasha Grey DT stroker at the same time and I prefer this one better, has a better suction and "throat" feel to it. Kinda time consuming to clean but not too bad overall. It makes that squishy throat noise too which can be good or bad depending on the user but I dig it. Worth repeat purchases in my opinion.
03 Jun 2022
Simpli Pleasures
Repeat purchases, repeat orgasms... sounds 'Pretty good' to us.
Love it
This is a great toy!!!
03 Jun 2022
Simpli Pleasures
We're so glad you like it. Keep the glowing feedback cumming!
Does the job.
I can't say it's "like the real thing"...not that I have any experience with Vicky Vette; however, it does the job as my wife recovers from surgery.
03 Jun 2022
Simpli Pleasures
We wish your wife a speedy recovery, but not too speedy-- we want you to get your money's worth.
Feels great.....
Works very nicely however the vibrator quit working 45 seconds after turning it on. Texture is soft and pleasing . A little difficult to clean throughly but definitely a must have.
25 May 2021
Simpli Pleasures
Thanks for taking the time to leave us a review. We will send you a personal email to get this straightened out for you. Please let us know if we can be of any further assistance. Kind regards, Arianne | Customer Care 1-800-918-6308 care@simplipleasures.com
Five Stars
Absolutely awsone
03 Jun 2022
Simpli Pleasures
So good it inspired you to invent a new word. Now THAT'S 'awesone'.