Versatile and fun, suction cup dildos provide hands-free pleasure wherever you want. What's special about these dildos is their base, which is a sturdy suction cup that secures onto flat and smooth surfaces, from walls to mirrors. If you're looking for ways to try out new sex positions or you want to explore your body and how to excite your sweet spots to a body-rockin' orgasm every time, read on to learn more about these innovative sex toys.
5 Amazing Positions To Try With A Suction Cup Dildo
Suction cup dildos have a wide variety of uses, and what's most fun about them is that you can use them to test out positions and see which angles stroke your sweet spots the best. You can also use these popular sex toys as a practice tool for the real deal when you're ready; e.g., you can try out oral sex techniques and sex positions that will guarantee your orgasm every time with your partner. Here are five ways for you to enjoy your dildo:
1. Classic Doggy Style
Place your dildo on the wall, shower door or any other smooth surface, and back up so that your dildo slides inside you from behind. You can do this position on all fours or standing up and bent over at the hip, which is perfect for shower fun. Doggy-style is a great position to engage in during solo play or when you're with your partner for a hot fantasy threesome. If you're using your wall-mounted dildo with your lover, you can pleasure them with oral sex while you get your own stimulation by going doggy-style with your dildo. If you're going solo, try a clitoral vibrator while using the suction-cup dildo so that you can get both external and internal arousal.
2. Chair Ride
Stick the dildo to a chair with a flat surface (no cushion), spread your knees slightly so that they create a V, and sit down on the dildo. You can use a table in front of you or the back of your chair for balance. To maintain a rhythm, balance yourself by holding on to the back of your chair or placing your hands in front of you, grasping the edge of the seat, and bounce up and down or roll your hips to find the right angles that hit the right spots. Alternatively, you can use a stool or other type of seat to experiment with your dildo and various positions.
3. Mirror, Mirror On The Wall: Who's The Naughtiest Of Them All?
Give yourself or your partner an excellent view by attaching the dildo to a mirror, preferably a full-length wall mirror that has a stable mount. You can also just use your mirror as an area for you to enjoy your suction-cup dildo, which is convenient for anyone living in small areas or are sharing a place with roommates; you won't need to leave your room to use your new favorite toy.
4. Fun On The Tub
If you have a bathtub, stick your dildo on the edge and straddle it by placing both feet on either side of the tub. Use your legs to move your body in any way you want to get the most stimulation. As a tip for couples, you can enjoy a romantic and sexy bath with your partner and give them a show by using your dildo while they soak in the tub watching you.
5. Sexy Strap-On Play
Most suction-cup dildos are harness-compatible because they have round bases, which can secure to the harness easily with the harness O-ring. If you need a harness, check out our Strap Ons & Harnesses collection.
Our Best Suction-Cup Dildo Recommendations
To give you an idea of the diverse selection of suction-cup dildos available to you, we have highlighted our best-selling ones here to help you choose the best one for your needs:
Soft and flexible, the Doc Johnson Crystal Jellies Ballsy Dildo is designed with your comfort and pleasure in mind. Made from luxurious jelly-like material, this dildo can bend and curve at your command so that it hits the right spots every time. The Crystal Jellies suction-cup dildo is also waterproof, so you can take it with you to the shower.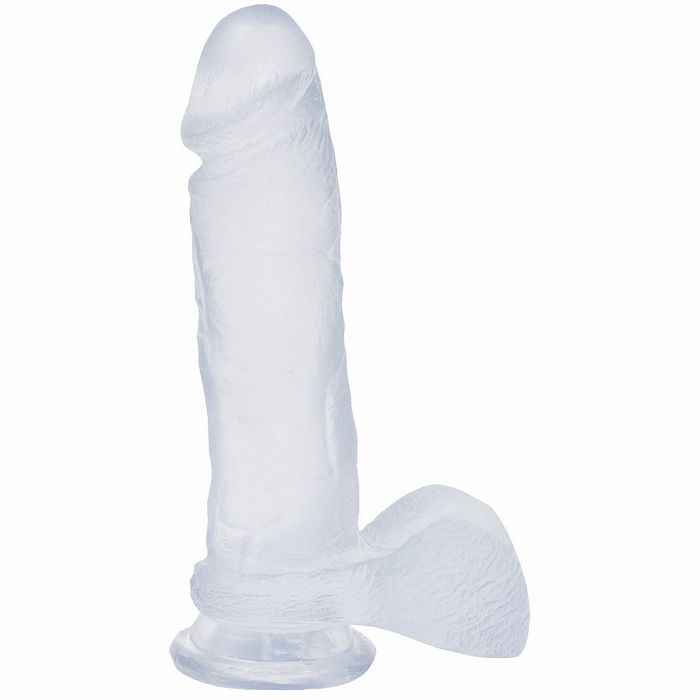 For a beginner-friendly wall-mounted dildo, you can try this 6-inch joystick. Designed with a curved shaft to stimulate the inner G-spot erogenous zone, this flexible suction-cup dong enhances your experience by providing more mind-blowing sensations that you'll love. This waterproof dildo is great in the shower, on the wall or even with a harness.
Here's another delightful dildo from the Real Feel collection! This 7.5-inch suction dildo features two shafts for simultaneous anal and vaginal penetration, giving you twice as much toe-curling pleasure. This dual-action dildo also doubles as a vibrator, so you get even more thrills with just a single sex toy.
Molded from the famous porn star, the Mr. Marcus realistic suction-cup dildo is a divine and sensual large, black dildo sex toy that is extra thick and long to fill you up and stretch you to the max. This mammoth-sized dong is harness compatible specifically with the Doc Johnson Vac-U-Lock plug harness, which you can find here.
Constructed like a rabbit vibrator, the Deluxe Wall Bangers Vibrator doubles as a dildo and features a realistic cock shaft that provides a more personal experience. The critter clitoral teaser at the base of the shaft gives your hot button extra thrilling attention to bring you over the edge faster and make your orgasms more powerful. The suction cup at the base lets you enjoy hands-free play. This vibrator-dildo hybrid toy comes in three designs: beaver, bunny, and dolphin.
While you're shopping for your new suction-cup dildo, make sure to check out our Sex Essentials collection and complete your sexperience with lubricants, stimulating gels, and more. If you're planning to use your new sex toy anally, be sure to grab anal hygiene tools and anal lubricants in our Better Anal Sex and Anal Lubricants collections for more comfortable anal play.